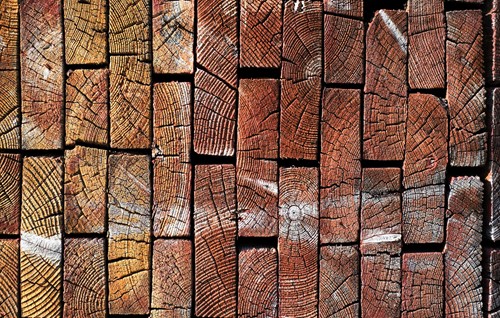 Crafty homeowners may enjoy a rare opportunity to transform seemingly old and useless lumber into inspiring rustic interior designs. In recent years, the trend to repurpose home furnishings and products spilled into the construction materials realm. With the aid of a few basic tools and a DIY attitude, you can reclaim wood and enhance the quality of their living space. Reclaimed materials are routinely being integrated as accent walls in modern homes, kitchen back-splashes, house siding and complete room overhauls. The rustic luster of densely-grained aged wood creates a unique aesthetic many new materials cannot deliver.
Perhaps the greatest aspect of reclaiming wood for home projects stems from the fact the process can be done at anyone's pace. By considering the following tips and securing a viable space to store your reclaimed wood, it will be ready when you are.
Where Can You Find Old Wood to Repurpose?
Repurposing wood emerged as a trendy environmentally positive strategy employed by artisans and crafters years ago. It spawned a niche commercial industry making it easier for property owners to obtain it without having to rummage up old boards and process them for home upgrades. Here are some places to find reclaimed wood:
Demolition Sites: Keep an eye out for property owners removing old sheds, barns and other outbuildings that have fallen into ruin. In many cases, they will either pay to have the lumber hauled away in a dumpster or burn it in place.

Landfills: Many communities position thrift stores that resell discarded items at local dumps, such as lumber and damaged furniture. Many offer wooden items for pennies on the dollar.

It may be worthwhile to set aside previously used 2x4s and pine planks the next time you plan to renovate a room. Along with load-bearing lumber, items such as cabinets and countertops made be constructed from reusable wood. Keep an eye open for materials you once viewed as disposable junk and turn them into art.

Steps to Process & Reclaim Wood

When working with previously used materials, safety is key. Any time you handle these materials, wear protective gloves and look carefully for exposed nails, screws or any sharp edges. It's also important to review the lumber for signs of rot, pests or mold. Only secure aged wood that is relatively clean and structurally sound. Avoid things such as asbestos or lead paint whenever possible. Here are some more tips for processing lumber:

Scrape away any loose debris or material clinging to the surface.
Sand the boards down to clear away old lacquer, stain or sealants while wearing a breathable mask.
Use a circular saw or appropriate cutting tool to eliminate rough or compromised edges.

After following these basic strategies, you will have material fit for your next project. Some DIYers like to promptly seal the material using linseed oil or polyurethane. Coat the other side once fully dry and repeat. It's also crucial to store your stockpile of reclaimed wood in a dry, cool space away from insects. With a solid stockpile of reclaimed wood available, you'll be ready to tackle any renovation or creative project.