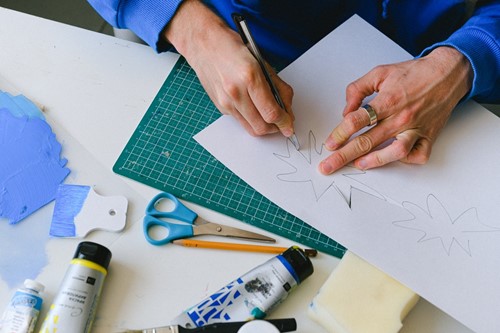 The process of creating your own home decor is exciting, but you are going to want the hard work and effort that you put into these projects to be the worthwhile in the end. The last thing that you want is to make an avoidable mistake during the process that ends up compromising the entire plan.
These are the most common DIY home decor mistakes and how you can avoid them:
Forgetting to Measure Twice and Cut Once
Measuring seems like it would be the simplest step in any project, but it's easily the most common mistake with DIY home decor. Whether you are working with paper, wood or fabric, it's imperative that you double-check your measurements before you make that final cut. You can't put the material back together, and if it doesn't fit properly, you will have to start over in order to finish the project correctly.
Hanging Homemade Art Work Too High
Once you have finished the DIY wall art for your bedroom or living room, you are going to be antsy to hang it on the wall and display it with pride. However, avoid hanging it too high on the wall. Far too many people simply take a guess and put a nail in the wall only to find that the work is hanging too high. Most experts recommend hanging any type of art, including DIY art, at eye level so that it can be enjoyed by anyone who enters the room.
Making Too Many Accessories for the Same Room
Any room in your house should have a mix of decor - ranging from large fixtures as well as small accent pieces. Making too many accents or decor accessories for the same room can result in a room that feels cluttered and chaotic. Avoid this mistake by choosing one or two projects for each room in your home rather than always opting for DIY decor ideas that can only go in one specific room.
Starting the Project Before Choosing a Theme
Most DIY decor projects are going to serve as a detail in the larger plan for any room, so it's important that you decide on the color palette or theme for the room before you start buying the materials for your next DIY adventure. It is better to take it slow and make sure there is a plan in place before you start working on your next craft.
Taking on a Project that is Too Challenging for Your Skill Level
It's very easy to look at a finished product and think that you could do that on your own. However, it's important that you consider your own experience and skill level before you take on a DIY project. Read the instructions for the project thoroughly and make sure that you feel confident completing each step before you begin.
Now that you are aware of some of the mistakes that are easy to make when you are taking on a new DIY home decor project, you can be mindful and avoid them as you begin to work on your next piece. When you head into the project being both aware and prepared, you will move smoothly from step to step and avoid the frustrations that others have endured before you.